Ask yourself, "When is the last time you updated your photos for your rooms? Website? OTA listing?"
Now is the time to get ready for new business. Now is the time to showcase your amenities on property....with photos. Did you know 53% of guests want to see bathroom photos? It's true!
TIP:
Statistics show, Room Photos are most popular for guests at 72%, Bathroom photos are at 53%, Exterior photos are also popular at 49%! If it has been a while since you updated photos now is the time!
There are multiple ways you can update your photos in the OpenHotel PMS system. The most important is Room photos. To update your room photos, go to Property>Manage Rooms. Click on any room details to the right, and at the bottom of the details page, in the descriptions tab, see photos. You can add pictures from your desktop through our CMS (content management system). You can also add Alt text to each photo and drag and drop the order you want them to appear on your booking engine, website. Alt text is great for ADA Compliance, since it describes your photo in words when moused over. See example below. You can add as many photos as you would like in the order that you would like to show.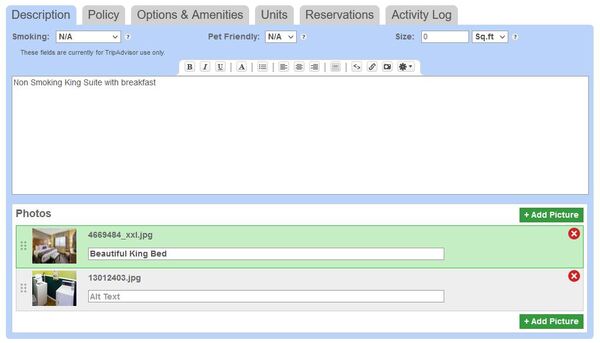 You can also add and update your OTA photos directly from the OpenHotel admin area!
To update your photos on your channel manager connections with Booking.com and Expedia, go to Connections>channels and click on a channel to access Tools. The images button will enable you to add, update, modify any photo listed on the OTA with ease. Simply follow the actions and complete the form and updates will be submitted in real time.

Waste no time! Get going on those photos!

For support, don't hesitate, we are here to help answer your questions!