Our company has always had a very strong relationship with Booking.com. We were recently awarded Top Connectivity Performer in North America 2019, and have earned Premier Status Partner two years in a row! We are the only PMS in all of North America integrated with their Content API.
We are happy to announce more benefits to you because of this tight integration. Now, many of the features available through your Booking.com Extranet are now available to you, seamlessly and intuitively, through your PMS. Let's take a look!
PoliciesGo to Utilities > Polices
On the left side menu, you will now see options for
Channel Policies > click on Booking.com
. This will bring up your existing policies where you can add or update them at any time. By clicking submit the update will automatically send to your booking.com extranet account for display. Notice the types of policies you can update: Check-in/out, Pet polices, Taxes, Guarantees, Cancellation and other fees. To add, simply click the Add blue link. To remove. simply click the negative sign next to the existing policy.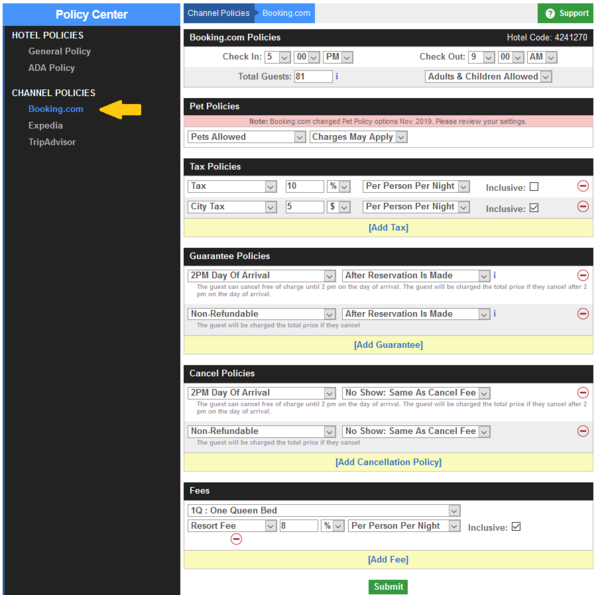 PromotionsGo to Rates & Availability > Discounts
At the bottom of the discount manage page you will see Booking.com Promotions. The promotions are categorized as Global and Standard.
The Global promotions
are Business Booker, for the everyday business traveler, Geo Rate, where you offer discounts to certain countries internationally, and Mobile rate, to appease the guest who normally would book using a mobile device. You should already be familiar with these as they are normally activated in your Extranet.
The Standard promotions
include your everyday discounts such as Basic, Last minute and Early Booker. If these promotions have already been activated, you will see them appear. When you want to add a promotion, simply click the blue Add Promo button and complete the form. The form includes everything you need to build the promo including discount percent, min stay requirement, dates, availability, rooms and rates to map. Be sure to submit when finished, and the promotion will activate on your booking.com account.
You can also modify the discount amount of any promotion already activated. Just click the details link to the right, make your changes, and submit.
You cannot, however, create the same type of promotion without canceling the first one. You can only have one type of promotion running at a time, for a specific date.
You can have multiple GEO promotions since there are multiple locations you can chose.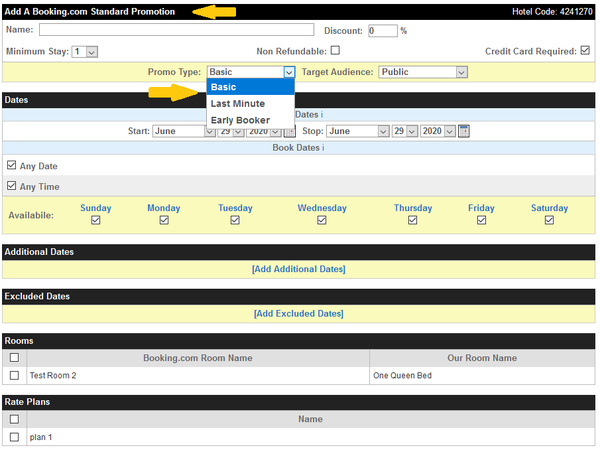 Guest ReviewsGo to your messaging center located in the upper right corner of the admin page.
On the left side menu, go to the Booking.com Alerts and click on Guest Reviews. This page will show your current total review score compiled based on several criteria including Location, Staff, Value, Comfort, Facility and Cleanliness. Below you will see a default setting to All Dates starting oldest to newest. If you click into All Dates and choose Modified Since -instead- and enter a start date such as January 2020 and hit GO you will see reviews from as early as January. To the right of the date, sort by All Reviews, Replied Only or Without Replies and a list of the reviews will appear below.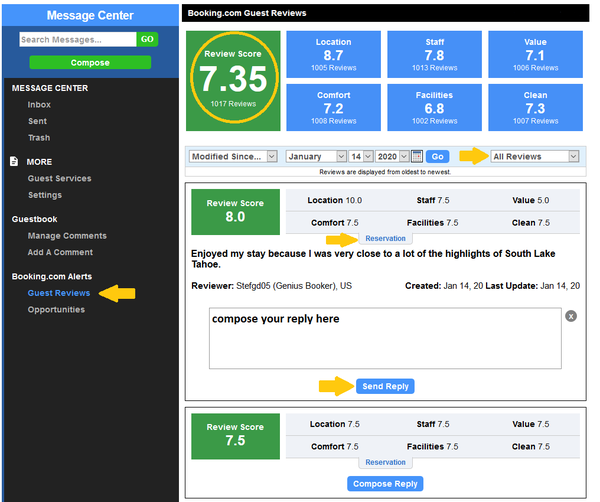 All of these features have been activated and are live, ready for you to start using them immediately! In the next day, look for a video tutorial in our support portal for your viewing pleasure. If you have any questions please contact support.