TIP: Audit times are important for when you would like to count revenue for any given day. For example, if your audit time is set for midnight or 11:59pm this is when all monies for the day will be counted. If you have a guest that arrives after that time, let's say at 3:00am, the revenue will be counted for the next day because it is after the audit time.
Your PMS is a cloud-based system, therefore the audit will never need to be ran manually. The audit for the day is automatic and rolls into the next day based on your time settings. To review your audit time settings visit the Settings page, found at the top of the admin area under your name.
The settings of your Audit times are your default system wide settings. However, you may change this time based on any given day. Using the example above, let's say you have a guest that arrives at 3:00am after your audit time of 11:59pm. You decide you would like to count the guest revenue for the same day. Go to the Audit Time Settings report to change the audit time for JUST that day.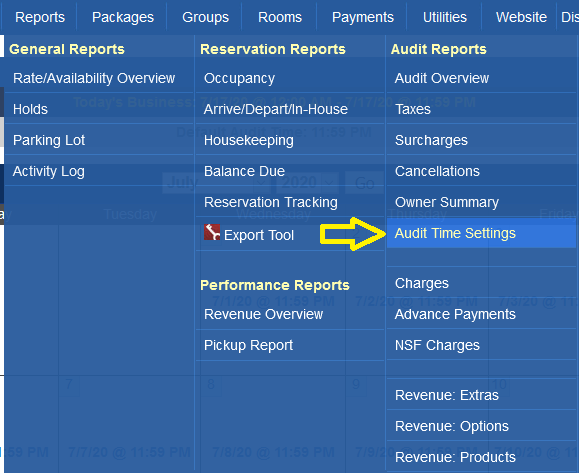 The calendar view will show a link of the defaulted audit time that you can click on to change. A pop-up will appear with the default time settings. Simply click to change the time. Caution - you must be sure to match up your times so not to have gaps in days or minutes. If you are going to change it from 3:00am then the next line must be the regular time of 11:59pm so that your regular audit time will not be effected.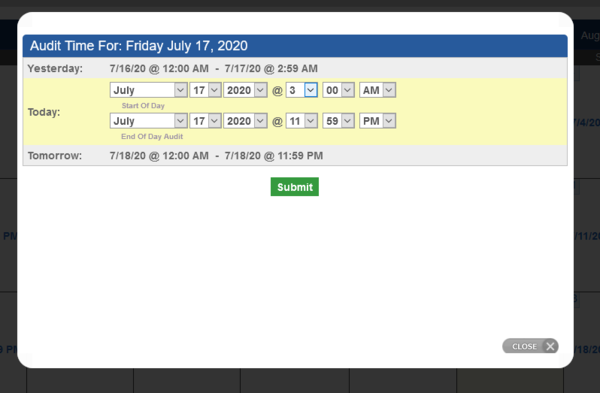 As always, if you have any questions, feel free to contact live support at 702-628-5014.