What is Channel Management for hotels?
Before we can define what channel management means for a hotel, we must define what a channel is. In the hospitality industry a channel is an external source, usually a website, that you provide inventory and rates to. They in turn book rooms for you based on the data you supply them. The channel then typically charges you a fee or a percentage for providing you the business.
Some well know channels would include
Booking.com
,
Expedia
and
TripAdvisor
. In 2018 Booking.com, Expedia and Ctrip accounted for 93.4% of OTA reservations.
Gone are the days when a hotel had to either choose what channel to provide with inventory, enter reservations manually into their property management system and constantly be concerned with overbooking. Now there is channel manager software that accomplishes this for you.
With channel management software your inventory and rates are shared with OTAs in real time. If your hotel is sold out then the channel manager closes out the OTAs. Plus, when reservations are made on any of your connected channels they are automatically added to the property's PMS.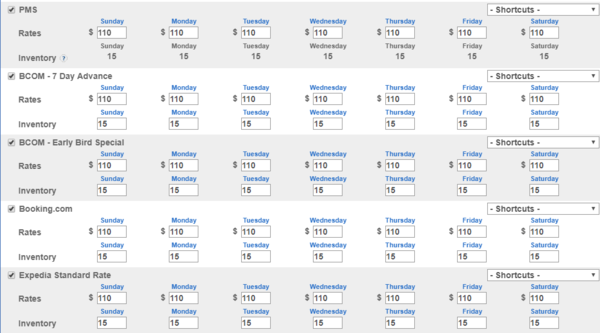 Why do hotels need channel management?
Be on more OTAs
Since your inventory is real time the risk of overbooking is greatly reduced. OpenHotel channel management software has not had an over booking in over a year.
Save time
With channel management software you do not have to log into each distribution site and open and close inventory
No more manually adding reservations into the hotel's PMS system.
The channel manager instantly adds guest information into the PMS and adjusts inventory. No more manual entry! No more input errors!
Why is the OpenHotel Channel Manager the best choice?
OpenHotel is unique among hotel management software. We do not use a third-party application for a channel manager. The OpenHotel software was written by our in-house programmers and in completely integrated into the OpenHotel property management system. There is no bolt on application. It is one piece of software, not two pieces of software from two different companies that have to talk to each other.
This means there is one company to call with questions, issues and support. It means there is faster updates of hotels rates and inventory and incoming reservations. It is in less than a minute with OpenHotel. With bolt on systems the third-party bolt on application does not update in real time. They update on a schedule.
This means that if one company updates their software there are no issues or downtime as the other company catches up.
This means stable pricing. If the bolt on channel manager raises prices the hotel software company has to pass it on or eat it. They are probably not going to eat the increased cost.
OpenHotel was named a Premier Booking.com Connectivity Partner in 2019. We are the only company with this designation in North America that works with hotels. We are a very strong technical software company. If your channel manager software is an important management tool for your hotel, you should have a strong tech company behind it.
OpenHotel considers support an important feature. Our staff has been with OpenHotel for over 8 years. They know their stuff. We have OTA gurus on staff to help you and guide you. Our support is US based and always answered by a seasoned OpenHotel employee.