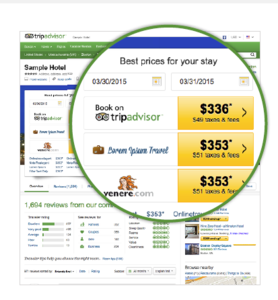 TripConnect Instant Booking is the advanced version of the TripConnect pay-per-click. Instead of just displaying your hotel's website listing, now with Instant Booking, the guest can book directly on the Trip Advisor website utilizing a check-in check-out rate availability booking engine. All room rates and inventory are pulled in real time directly from your OpenHotel website. The key benefits include:
Pay for Stays - the hotels pay only when bookings turn into guest stays
Direct Booking Benefits - hotels own the guest relationship from the beginning
Set it and Forget it - simple commission model is easy to setup and maintain
*Commission rates can vary from 12-15% on each booking made through Instant Booking
This connection is available to all OpenHotel clients whether or not you have the channel manager add-on. You do not have to have a Business Listing account with Trip Advisor to take advantage of the Instant Booking, as it is now a stand-alone product.
To get started, login in to your Trip Advisor account to activate.
1. Confirm your relationship with OpenHotel as your provider.
2. Choose your commission level based on what percentage of "Book on Trip Advisor" traveler views in the availability search results.
3. You may have to verify rates, however, once connected it will result in your OpenHotel website/pms rates and inventory in real time.
4. Provide payment details to complete sign-up and you will not be charged until the first booking is consumed.
For the Instant Booking button to appear on a property's page, the price that you return will have to be no higher than the 1% of OTA's median price.
OTA's do separate taxes and fees in markets they are required to, such as the US. For example, the button will appear if taxes and fees are separated, $68 base rate, plus $7 taxes and fees.
If they were not separated, the price would be $68 + $7 = $75, whereas the OTA's median price is ($71 + $73 + $71 + $74 + 71)/5 nights = $72, the 1% of which is $0.72, therefore if prices are above $72.72, the Instant Booking button will not appear.
Recent Update as of June 1st
Since launch of the Instant Booking, adoption has been rapid, and has proven to deliver a better experience and increased conversion for the majority of our hotel partners. As a result, TripAdvisor will be focusing exclusively on the Instant Booking feature and have removed the cost-per-click option. For those who are still using this feature you will still be able to setup campaigns by going to tripadvisor.com/TripConnect.
For more information about Trip Advisors Instant Booking feature please visit their introductory blog.
If you have not connected the Instant Booking and have questions about how the OpenHotel Channel Manager works with TripAdvisor please call or email support at 702-628-5014 or help@openhotel.com.