You can add room notes and have them show up on your tape chart.
How would I use these?
You can now see notes about specific rooms. For example, room 212 may connect to room 214 or room 127 may have an obstructed view or be close to the elevator. Now your front desk or reservationists can see specifics about a room when assigning or during the booking process.
How are they displayed?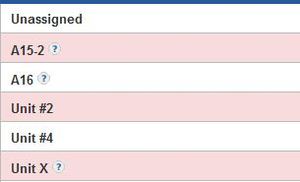 On the main dashboard tape chart you will see a icon next to any room that you have a comment on. If you mouse over the icon (it looks like a question mark in a circle) the comment will be displayed.
How do I add a comment to a room number?
In your admin area go to Rooms>Manage Rooms. Click on the Details of the room type that the Unit is listed under. Click on the Unit Tab. All of your room numbers associated with that room type are listed. Click on Details for the room number you wish to add a comment to. A pop-up will be displayed. Type in the comment you wish to display, and click submit.
Questions? Give us a call.