OpenHotel now offers Consortia, Request for Proposal (RFP) through Pegasus Sales Connections. A consortia is a rate negotiated between a hotel company and a travel agency group. The travel agency members join together in an organization to increase marketing and provide better rates for their clients than other competing agencies worldwide. Over 40% of GDS bookings are generated from consortia.
The standard requirements include:
~A minimum of 10% off the lowest published rate
~Rate Parity
~Last room availability guarantee
~10% commission to the agent
~All rates quoted are to be guaranteed for the entire year starting Jan 1st through Dec 31st

Here are just a few of the Participating Programs. There are more than a dozen agencies who participate.
ABC Global Services
- Consists of 70% corporate and 30% leisure travel and is the industry leader used by more than 7,900 agencies.
American Express - One of the most preferred partnerships in the consortia due to their highly sought after programs.
Booking Services International (BSI) - Consists of 100% corporate (20% conference) travel and is the leading independent European agency.
Carlson Wagonlit Travel - Consists of 99% corporate and 1% leisure travel and is the leading travel agency for fortune 100 companies.
Cendant Travel - Leading provider of travel, shopping, health, entertainment and consumer protection services with more than 25 million members.
Dertours - Consists of 40% corporate and 60% leisure travel and is the largest tour operator in Germany.
Japan Travel Bureau - Consists of 80% corporate and 20% leisure travel with global annual sales exceeding $22 billion with more than 10 million room nights consumed.
Worldtravel - Consists of 90% corporate and 10% leisure travel with over 3,000 agencies located in key markets of over 100 countries across 5 continents.
The way it works.........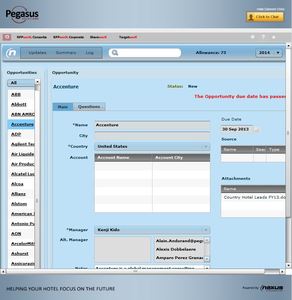 You must be an active GDS client to Sign up with OpenHotel whereby you will receive your own login to the Pegasus Sales Connection to view all participating agencies in the consortia. Some agencies only offer bidding available at certain times of the year so you will need to login frequently to see what is being offered. Once you have read over the terms of the contract to include fees, rate requirements, etc. you may click on the contract to bid. If the bid is accepted by the agency you will receive a confirmation in order to get started.
OpenHotel will also receive notification that you have signed up with a particular agency and we will start loading the rate code in your admin area to be mapped to the GDS's. Once that is in place we can submit rates.
For those of you who have used the consortia with previous providers, you may be more familiar with the Lanyon RFP Tool, which Pegasus Sales Connection replaces. If you are under contract with Lanyon when you switch to Pegasus Sales Connections the contracts will remain in place and will need to be provided in order to load the appropriate rate code through the OpenHotel system.
Annual fee of $750.00 per Hotel is payable by client to OpenHotel at time of sign up, for use of the Pegasus Sales Connections RFP Management System.

To join please call us at 702-628-5014 or email us your questions GDS@openhotel.com.