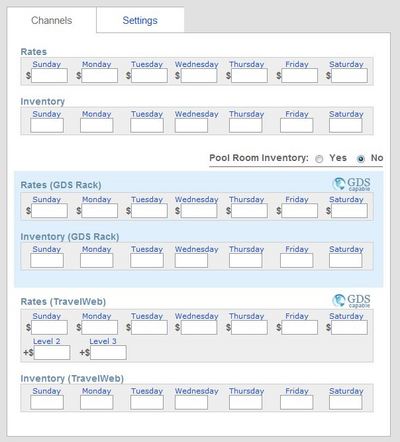 Open Hotel offers a seamless interface with GDS, the Global Distribution system for travel agents and portal sites, where you have one point of management for your website rates and GDS rates.
Here are some of the most frequently asked questions from hoteliers about GDS:
How much does GDS cost?
There is a one-time setup fee to get your property on the system and then a monthly per reservation fee. To see the most current prices, contact your sales rep. at Open Hotel by calling (386) 760-1774.
Is there a contract?
GDS requires a separate contract other than Open Hotel. It is a yearly contract with auto renewal at anniversary date. If at any time you need to cancel we require a 30 day notice.
What do I need to get started?
Other than the contract signature and payment; we would require you to complete GDS Setup forms which would determine how your property would show up on the GDS. The setup forms would include property information, location, statistics (including ratings), discounts available, amenities (including amenities per room), marketing descriptions, and photos.
What is the turnaround time for GDS?
Typically GDS visibility can take anywhere from 6-8 weeks. This can be determined by several factors. Some of the more common factors include client participation, the property has never been on the GDS previously or the property is currently on GDS and would like to switch providers.
What if I am currently on the GDS and want to switch providers?
If you are currently on GDS and are not happy for whatever reason, you can switch to us. The only requirement is a Switch Letter which would need to be submitted along with your contract. When a Switch Letter is submitted there must be a minimum 2-week time frame to allow the switch to happen seamlessly. So, if a cancellation is required with current provider, this time frame will need to be considered.
What does GDS include?
GDS includes all travel agent systems such as Sabre, Worldspan, Galileo and Pegasus, to name a few. It also includes Expedia, Hotels.com, Travelocity and AAA. If you are interested in Priceline and Travelweb a separate contract is required, however there is no additional charge. Orbitz is also available but the property must belong to their Merchant program which we can also arrange for you during setup or thereafter.
What does GDS NOT include?
GDS does not include Extra-nets, which push your property listing to the top of all portal sites and will usually show some kind of a slashed out pricing indicating a discount. You can sign up to the Extra-nets through the individual portal sites, such as Travelocity by contacting them directly.
What kind of discounts can GDS support?
The standard industry discounts are available through the GDS, such as AAA, AARP, Senior (different than AARP), Government, Military (different from Govt), Corporate, and Promo. The promo discount can be anything the property wants to offer. An example might be, residents only discount, a particular group discount or an affiliate discount.
How does Priceline and Travelweb work through the Open Hotel GDS integration?
Priceline is opaque (cannot see prices) and Travelweb is non-opaque (can see prices). Both sides are tiered pricing which means you can define a range of pricing from lowest to highest of what the property is willing to accept as a rate. For example, Priceline has rack (lowest price) and level 1 and level 2. Each level would be the dollar in addition to rack of what price you would accept. If the rack was $100 you could add 3 dollars to level 1 which would make the price $103. You could add $3 to level 2 which would make the price $106. Level 2 determines the highest rate you are will to accept through the Priceline and Travelweb portal sites.
What are the benefits of choosing Open Hotel for GDS connectivity?
The most important benefit to choosing Open Hotel for your GDS connectivity is that there is one point of management. Hoteliers do not have time to enter half dozen rates on different sites. You can manage rates for your website and for your GDS all in one place. Another benefit is our cost. We are very competitive in cost and do not nickel and dime our clients. Whereas, some companies charge a percentage we charge a flat rate which is explained during the signing of the contract. This goes for all Open Hotel products.
What is the difference between Extra-nets and GDS?
GDS is used primarily for travel agent systems. We can guarantee your property will appear on all major travel agent systems allowing for increased reservations and revenue.
Extranets are provided by the individual portal sites such as Travelocity, Expedia, Orbitz, American Express, Hotewire, just to name a few. The extranets would give you the advantage of having your property listing appear at the top of these portal sites. All through there is a hefty cost to these, depending on the advantages it is a good avenue for increasing revenue. We do not support Extranets.
To learn more about using GDS with your Open Hotel booking engine, contact your Open Hotel sales rep by calling (386) 760-1774.